Christmas Lighting
When the Holiday season comes around each year adults and children alike look forward to seeing the Christmas lights. Driving through a neighborhood all aglow with Christmas lights is always a warming experience, even if it happens every day. But, getting all those lights up on your home and property, now that's another story. So let My Lawn Irrigation do it for you.
Each year we help hundreds of home owners create their own special brand of Christmas cheer with the Christmas lights we hang on their home and property. If you want a neat row of icicle lights to outline your house, we are ready to hang those for you. If you want to create an elaborate display of Christmas lights, we can do that too, and anything in between.
We love hanging Christmas lights and knowing that we have a part in creating the Holiday spirit in a neighborhood. We can do anything from setting the inflatable snowman on your roof, to choreographed Christmas lighting. We can set up the timing systems, the timed light switches, and everything and anything else that has to do with Christmas lights. And we will always make sure that everything is to code and safe so that you and your loved ones can just enjoy the happy season.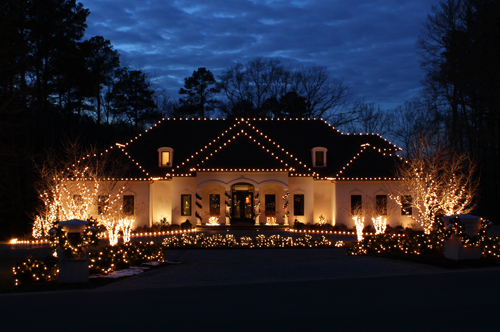 To request a free estimate, please click the button below and fill out the form on the page and we will contact you as soon as possible via email or phone call.