RESIDENTIAL & COMMERCIAL IRRIGATION SYSTEMS
Dayton Ohio Irrigation Systems | We Service & Sell All Brands Of Irrigation Systems
Irrigation systems are more efficient than any other form of watering because they put water where it is needed. No hand held device or sprinkler can do this as efficiently. Irrigation systems:
SAVE MONEY – They will reduce your water bill by saving water and still maintaining a healthy lawn and garden. Irrigation systems can provide precise and water-efficient coverage.
SAVE WATER – Through use of components which maintain optimal water pressure and provide for more uniform distribution of water. They eliminate over-spray which can result in 30% water savings. Controllers and Sensors are used to adjust watering cycles to adapt to diverse landscapes and weather / seasonal changes. Systems with evapotransportation (ET) technology can adjust run times and frequency. Automatic shut-off devices can shut-off the controller when rain is detected.
SAVE TIME – The system works on its own, thus freeing you for other activities.
Aeration reduces soil compaction. As sod ages, the soil underneath becomes very compacted leaving little or no pore space (pockets of air held in the soil) and making it difficult to grass roots to absorb water and nutrients. This condition causes lawn deterioration making the lawn more susceptible to weeds and attack by insects and diseases. Aeration involves the removal of small plugs of soil leaving small holes that help to break up compacted areas and allow water and air to penetrate the root zone. Results of aeration include:
Improves fertilizer and nutrient uptake
Reduces water cost
Stimulates deep root development
Improves soil structure
Promotes air exchange
Reduces and controls thatch
Reduces soil compaction
Reduces water runoff
Promotes a healthier lawn
Improves ability of plants to defend against drought, disease and insects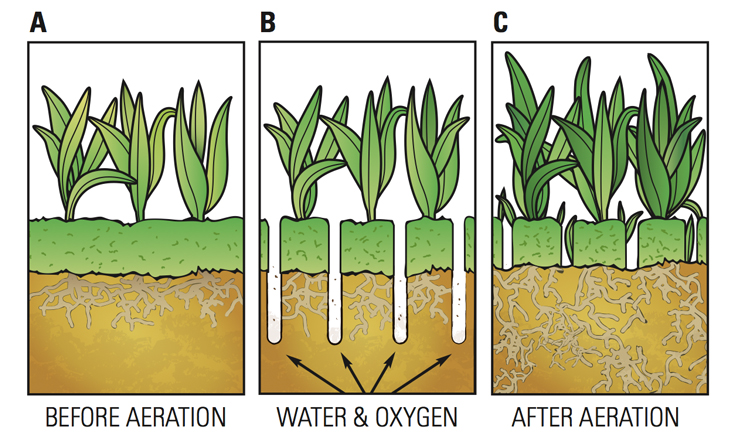 To request a free estimate, please click the button below and fill out the form on the page and we will contact you as soon as possible via email or phone call.